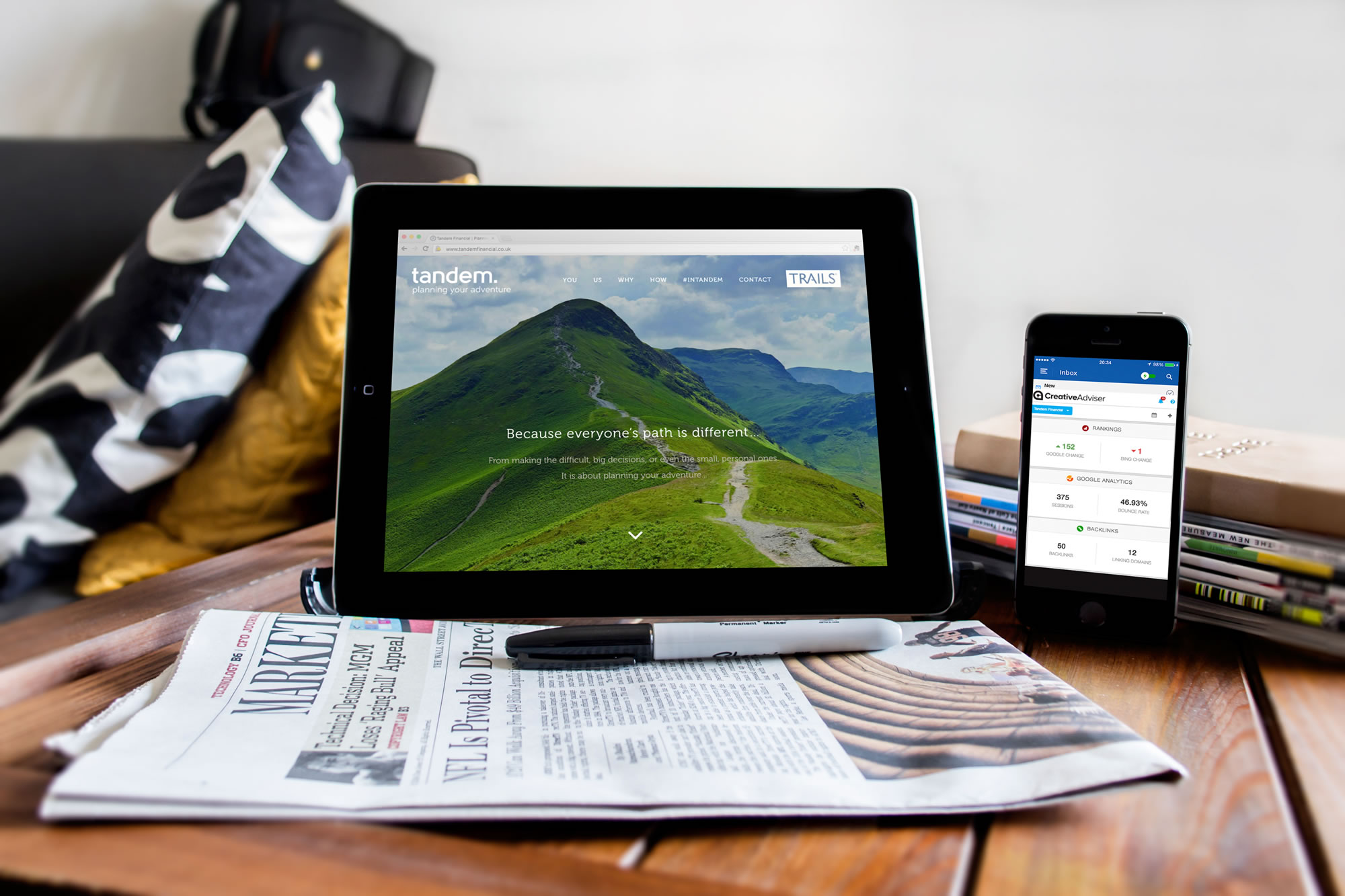 At CreativeAdviser, we have the privilege of helping financial advisers, planners and similar firms create a compelling brand and bespoke website design to raise their profile, and engage their clients.
As we approach Q4 in 2019, we wanted to provide a short round-up of some of the projects we have been working on – and which we're especially proud of.
Below, you'll find 5 financial websites which we've created. Many of these projects also included a rebranding element, or other graphic design/marketing work as well.
We hope these inspire you, and if you'd like to discuss your own financial branding or website design project with us, then we invite you to get in touch to arrange a free consultation with our creative team.
#1 Suttons IFA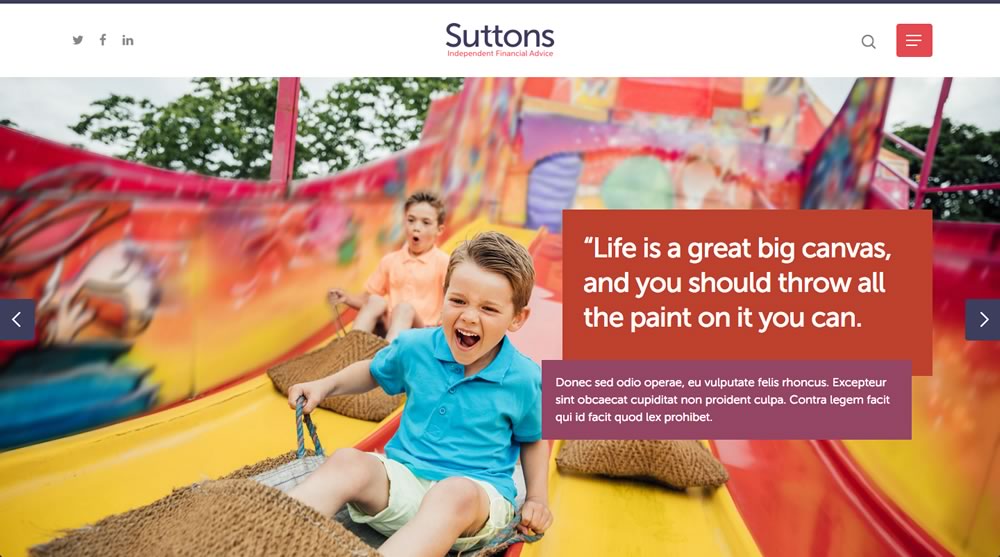 Suttons IFA is an established financial planning business based in Sale, Cheshire. They approached us because they wanted to take their visual identity to the next level and express this through a colourful, unique financial website design.
The original website was looking quite old and tired, with not much in the way of human imagery. As a result, one of the first steps our creative team took was to explore ways to inject vibrancy and a sense of life into the imagery and colour scheme.
The result of this process was a brand which compared financial planning to an artist's journey, where they set out to create a masterpiece which uniquely reflects the creator. This was then tied into a set of family-oriented imagery on the branding and website, accompanied by a red/orange-based colour scheme (to tie into the original brand identity).
It's is fair to say that the Suttons IFA website and brand much more accurately express their values, personality and value proposition. It was a delightful project to work on, and we invite you to check out their website here: https://suttonsifa.co.uk/.
#2 Weston, Murray & Moore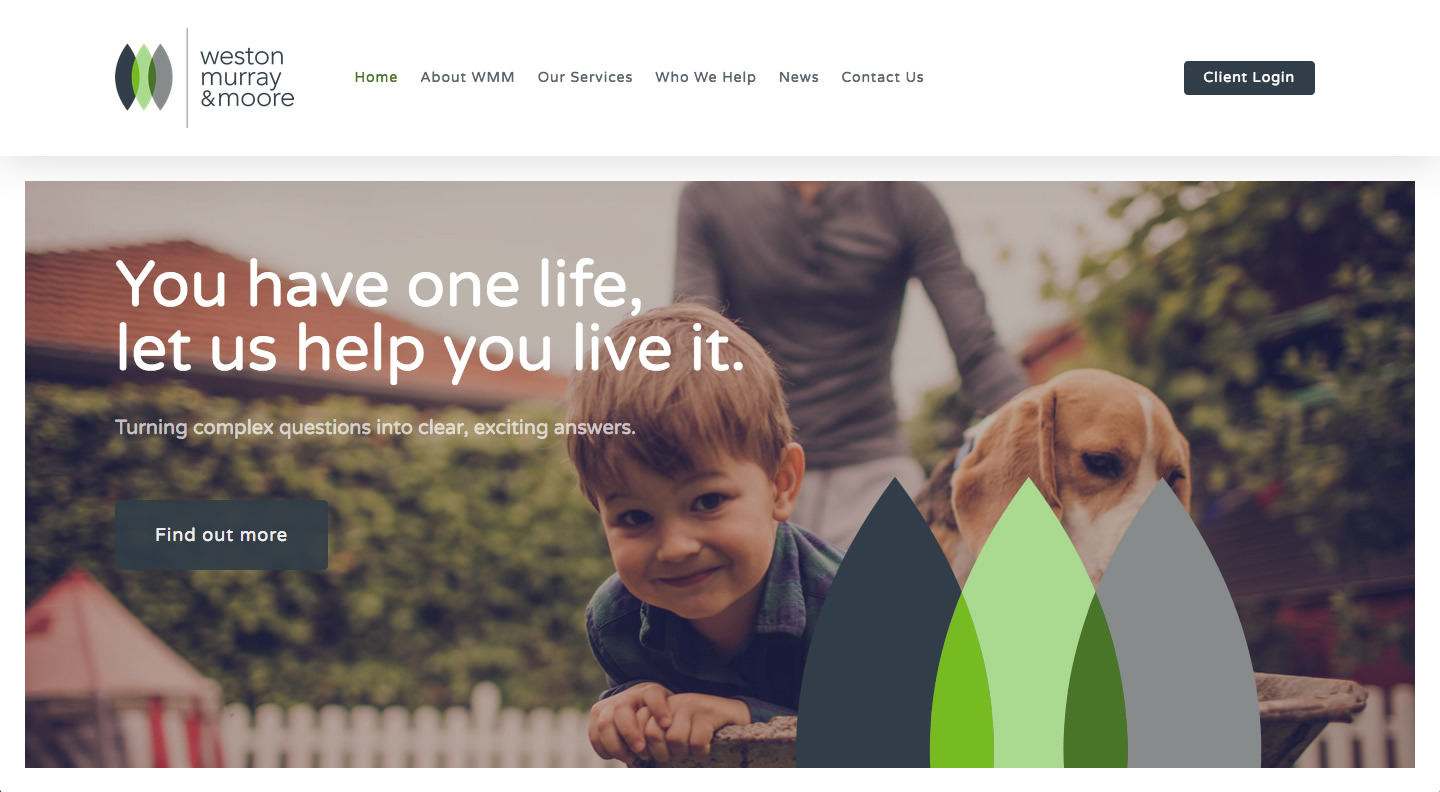 Weston, Murray & Moore – or WMM – are another financial planning company, this time, based in Oxford. They approached Creative Adviser because they wanted a new logo (the previous one looked very out of date) and a concise, tailored financial website to quickly communicate their value proposition to new and existing clients.
Due to the firm's high emphasis on ethical and sustainable investing (and a client base which values this), the visual identity quickly rallied around environmental colours of greens, dark blues, greys and browns. The new financial logo design reflected a set of leaves arranged in three "pillars", simultaneously symbolising the brand's values of growth and strength.
The website was hand-crafted to their new branding, focusing the content on a single bespoke homepage to quickly communicate WMM's team, USPs and background. The result is a lovely, focused financial website which gets the point across quickly without compromising on quality.
You can view WMM's website on https://wmm.co.uk/.
#3 Duncan & Toplis Probate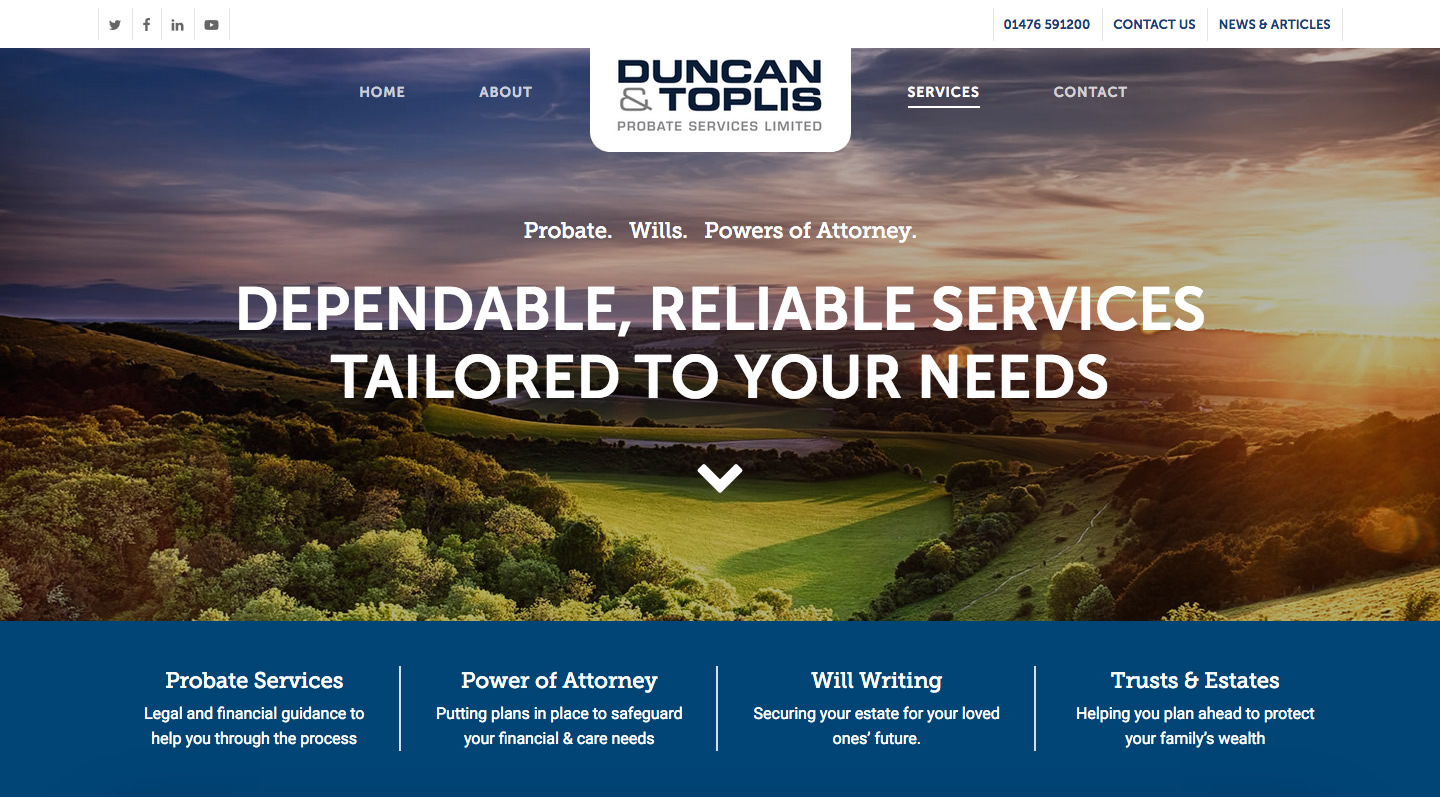 Duncan & Toplis Probate Services Ltd inhabit a slightly different space compared to the two firms described above, serving clients in the Midlands with wills and probate services such as power of attorney, trusts and estates.
The business needed a new website which responded well to mobile devices, which loaded quickly in the browser and which, crucially, communicated complex value propositions to the target audience in an engaging, clear and understandable way without diluting the service.
The new website integrates beautifully with the existing D&T brand and flows nicely between its primary pages with an intuitive menu/navigation. The website also lays a strong SEO foundation for possible, future digital marketing campaigns.
You can view this new website on the link here: https://duntopprobate.co.uk/.
#4 Planning Your Adventure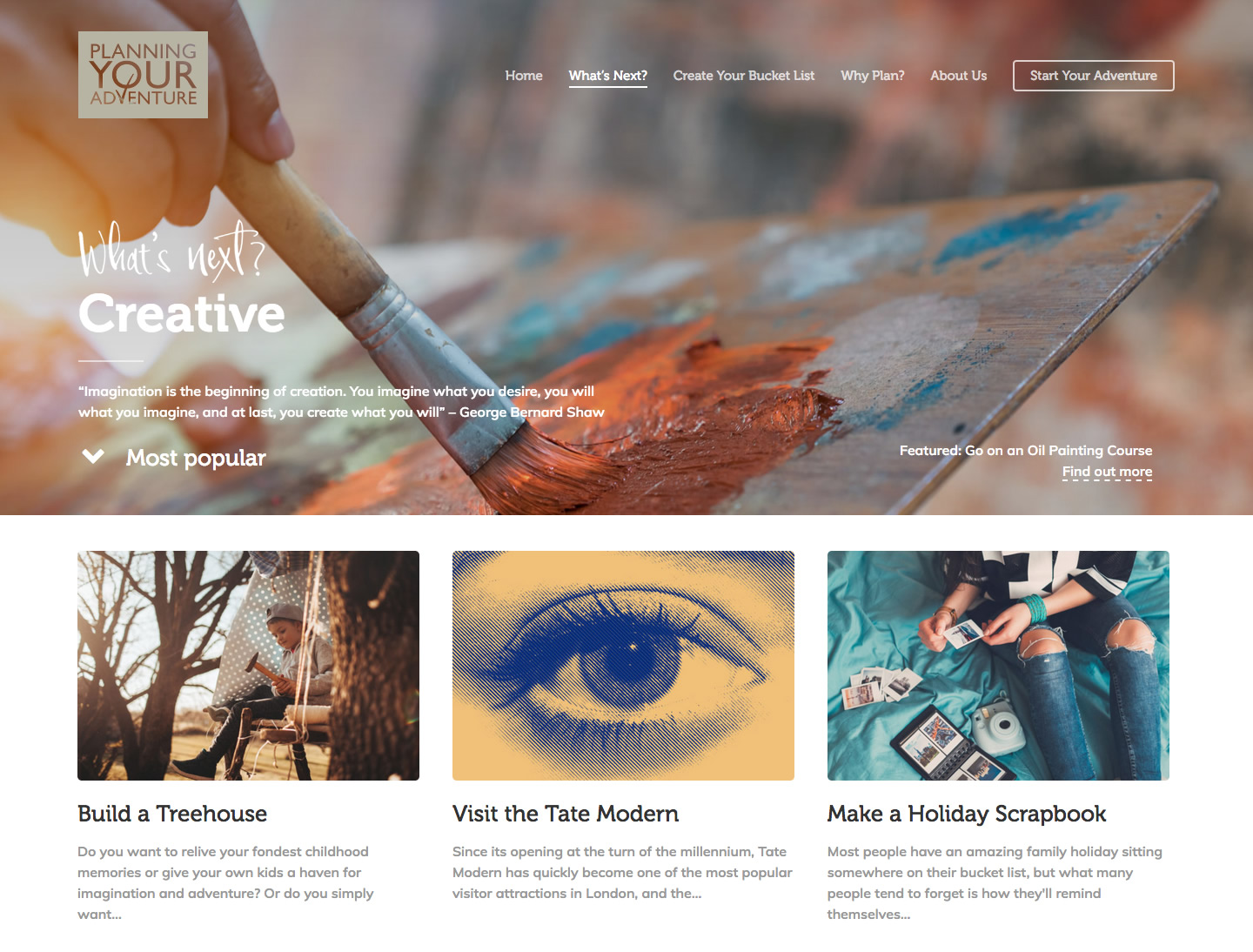 This was quite a unique project in our portfolio. Planning Your Adventure was the brainchild of the director at Tandem Financial; a financial planning business based in Luton.
The main intention with this website was to inspire existing clients at Tandem Financial to "look beyond" the technical aspects of financial planning, and to use financial planning as a means to an end – namely, achieving life goals and the "personal adventures" which are dear to the hearts of clients.
For some clients, for instance, their "adventure" might look like travelling the world, which for others it might be something as "nearby" as making a scrapbook or building a treehouse.
The website would need to be inspiring and delightful to the user. With this challenge laid before us, we set out on crafting one of the best websites we have ever made (in our humble opinion!). The imagery is fantastic and the ease of user experience is done to a high level, responding well on mobile devices too.
You can view the PYA website here: http://planningyouradventure.co.uk/.
#5 Bure Valley Group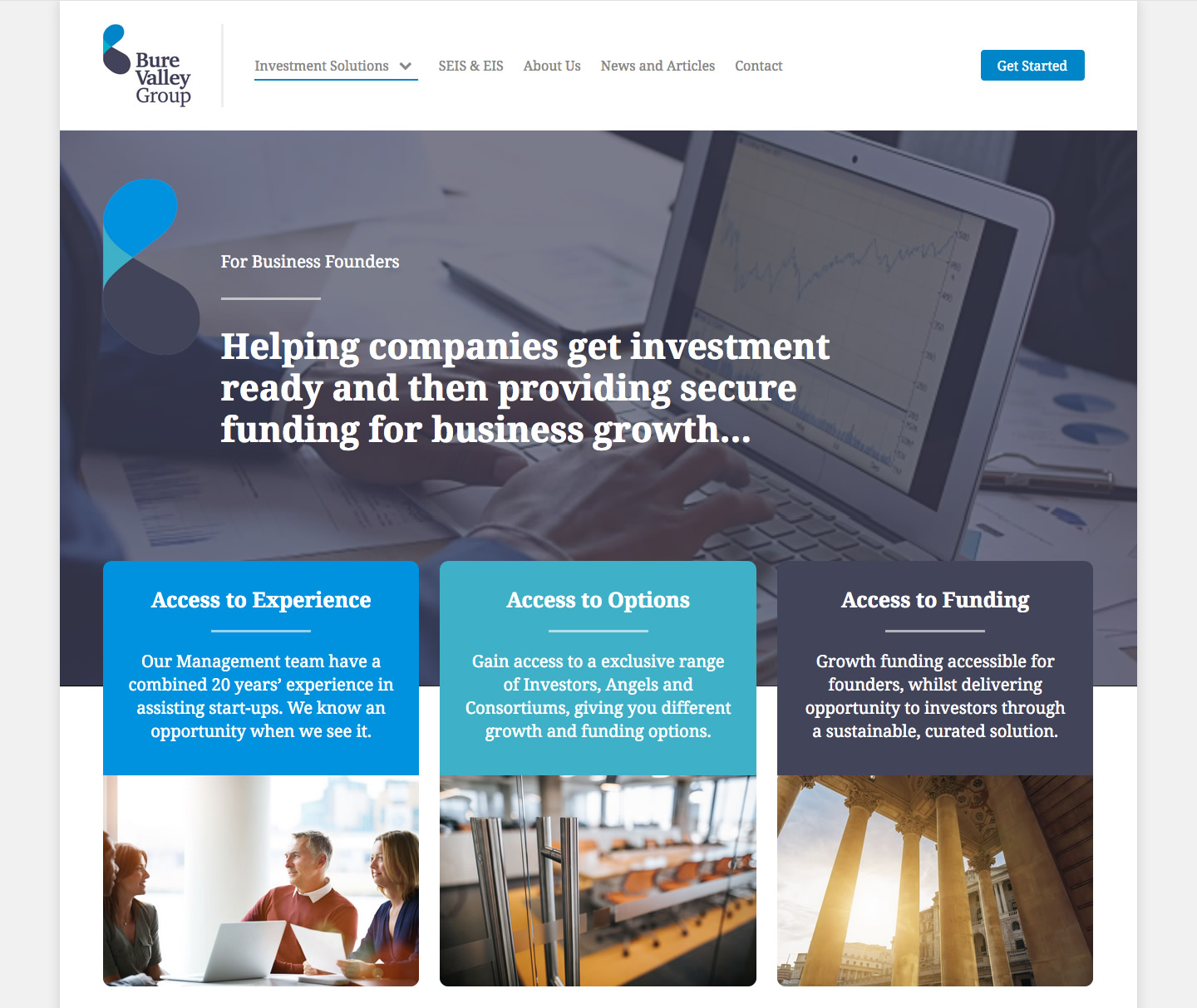 Bure Valley Group is an investment broker working primarily in the EIS and SEIS space, joining sophisticated investors with innovative UK startup who are seeking funding.
During the website design planning process, it was important to conceptualise the pages and overall website navigation very clearly from the beginning. This was particularly due to the fact that the website had two broad target audiences and a complex value proposition which needed quick communication.
The end result is a lovely new financial website which responds well on various devices, which boasts a powerful new blue colour scheme and a strong logo design to provide a compelling visual focal point for the financial brand. There is more strategic use of effective call to action across the website to encourage user engagement and conversion actions, as well as a compelling content library to help with SEO.
You can see Bure Valley Group's website here: https://burevalleygroup.com/.
Interested in a Project with CreativeAdviser?
Are you a financial services business looking to engage in a bespoke branding or website design process? If so, then we'd love to hear more about your objectives and see how our creative team can assist.
Get in touch today to arrange a free, no-commitment consultation. You can reach us on 01923 232840, or by filling out the form on our Start Your Project page.