With a solid IFA brand, you're seeking to accumulate additional value for your company which extends beyond its tangible assets.
Goodwill is a prominent example of this extra value. If your IFA brand is good enough to elicit goodwill from your clients, then they will insist on you by name and will be willing to pay a premium.
They will also be more likely to remain loyal to you as a provider, and extend grace towards any inconveniences or mistakes. This is crucial when you consider that for many IFAs, well over 50% of their company cashflow comes from repeated business.
It's difficult to measure the precise worth of an IFA brand, especially when you consider that it doesn't appear on the company balance sheet as an asset.
Of course, the temptation for many "branding gurus" is to point to extremes examples of a brand's worth to get IFAs opening their cheque book:
IFA: "Is an IFA brand really a valuable investment?"
Branding guru: "Of course IFA brands are valuable! Just look at Apple. Interbrand valued their Apple at $118.9 billion in 2014 – more than Disney, Wal-Mart and Mercedes combined!"
This isn't to say that branding is unimportant for IFAs, or that you should go for a cheap branding option. The problem with these sorts of comparisons is that, overwhelmingly, IFAs occupy a completely different space – and possess a totally different personality – from the top global brands.
This is because, broadly speaking, global corporations are selling a product (e.g. a computer, or car). IFAs, conversely, are primarily selling a relationship of trust.
Your service is fundamentally personal and relational. You are inviting people into a near-sacred relationship, where you will potentially know more about their financial situation and ambitions than even their family does.
In other words, the typical IFA brand personality and experience will almost certainly be totally different from that of a typical multi-national firm.
This doesn't make IFA branding any less valuable. In fact, it makes it crucial. Your positioning, personality and promise will require careful thought and planning.
Such care will therefore require sound investment. This is a big decision for IFAs, but, ultimately, a good design agency will earn you more money than what you're charged. You can't do IFA branding very well on the cheap, but you shouldn't need to break the bank either.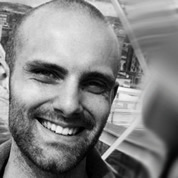 As the Marketing Coordinator at CreativeAdviser, Phil is responsible for devising marketing strategies for his clients, generating engaging and informative content, and ensuring brand consistency across all of CreativeAdviser's communications. Phil has a passion for digital marketing and a borderline-unhealthy addiction to Google analytics. 
In his spare time, Phil can be found powerlifting at his local gym, watching action movies, or playing acoustic guitar at open mic nights.
---