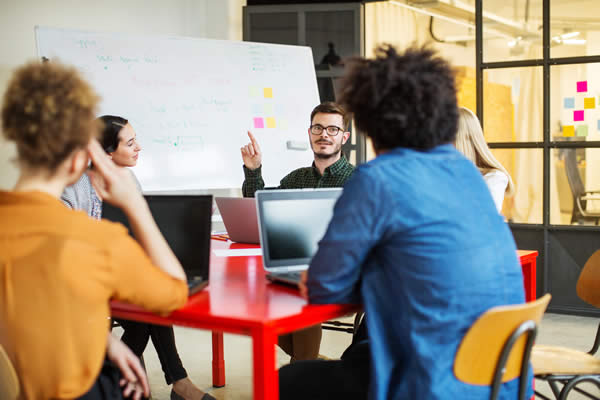 Is your financial marketing ready for 2022? It is almost guaranteed to be a year of technological change, demographic shifts and developing customer behaviour – not to mention possible new regulations and market conditions for financial firms.
With these possibilities in mind, the new year can be a great time to take a fresh look at your marketing strategy. Are you on course to get the best from your budget? Are you using your existing channels to their full potential, and are there other ones which may be worth looking into?
Below, our marketing specialists at CreativeAdviser offer five "marketing new year resolutions" for financial firms to consider in 2022. We hope this inspires and  helps you. For more information and insight – or to discuss your own marketing strategy with us – please get in touch to arrange a free online consultation.
#1 Review your persona(s)
Who is your "ideal" target client? It may be that you have never taken time to craft a "buyer persona" for your marketing strategy. In which case, the new year is a perfect time to create one.
A buyer persona is a description of your ideal target customer/client – their demographics (e.g. age, income and marital status) and, even more crucially, their psychographics (e.g. what drives them, what they fear and hope for).
Having a clear picture of your target audience is vital for marketing as it helps you choose the right language, imagery, campaigns and marketing channels to engage with them. Without buyer personas, you risk sounding inconsistent, irrelevant or even rude.
For those with one or more buyer personas, have you reviewed them recently? Whilst it is tempting to assume that your personas remain static over long periods of time, this is not necessarily the case. In partocular, COVID-19 and successive lockdowns have had a big impact on customer behaviour, expectations and characteristics across multiple verticals – including financial services.
Take time, therefore, to check over your buyer personas in 2022 to make sure your marketing messaging performs as best it can.
#2 Digital M.O.T
Have you taken time recently to check that all of the infrastructure involved with your digital marketing is set up – and working – correctly?
These days, a range of tools need to work together seamlessly for a digital marketing campaign to work effectively. Each of these tools rests on technology that is frequently subject to updates.
Whilst these can make improvements within the tools themselves, these can also have a negative effect on how these tools integrate with each other – sometimes leading to "breakages", inefficiencies or errors in data tracking.
For instance, if you use Google Analytics have you checked whether you are using Universal Analytics or Google Analytics 4? The latter is a new version (at the time of writing), and may offer a better way of tracking your digital marketing in 2022.
Moreover, are you using Google Tag Manager to help track your website's metrics and key performance indicators (KPIs) – or, are you still relying on a direct installation of Google Analytics on your website? The former approach is likely to offer much more flexibility in how you track user behaviour and performance – so it may be worth considering an upgrade.
#3 Client newsletter review
If you are a financial planner or adviser, what is the condition of your client newsletter?
Perhaps you are not sending one out at all. Or, maybe you send one too infrequently to have a real impact (e.g. every 6 months). For some, it may be that the quality of the newsletter is not up to standard.
A more positive possibility is that you are running, say, a monthly client newsletter but have not fully taken time to review and optimise its performance. In any case, 2022 is a great opportunity to take stock and review your client newsletter strategy.
What results do you want from your newsletter in the months ahead? What purpose do you want it to fulfil, and what conditions should be met for it to be considered a "success"?
#4 Budget allocation
Do you have a set marketing budget for 2022? Interestingly, many financial advisers and planners do not allocate a percentage of revenue to marketing. Rather, the expectation is that business should come in naturally (e.g. via client referrals). Or, any active marketing should be seen as an "annoying, necessary expense" which should be kept to a minimum.
If COVID-19 has taught financial firms anything, it is that they need a strong online presence. It is far from certain what the "new normal" will look like in the years ahead, as the world wrestles to recover from the pandemic.
Perhaps face-to-face meetings with clients will return as the norm. Or, maybe people remain nervous and would prefer to consult financial planners online.
Building a strong online presence, however, does not happen automatically – or with little investment. It requires time, commitment, a firm marketing plan and – of course – budget to support these efforts.
Whilst the exact amount you should allocate to marketing will depend on your unique goals, business stage and competitive landscape, you should prepare to spend a minimum of £1,000 per month – whether on an internal marketing hire, or an external partner.
#5 Internal & external resources
In 2022, take time to honestly reflect on whether you have the right people assigned to your marketing strategy.
Quite commonly, in our experience many financial planners try and juggle their own marketing alongside the multiple other roles they need to perform as business owners. For most, this is not possible to sustain or build effectively.
Eventually, it is better to hire a dedicated person to look after your marketing – or (and) work with a specialist, external partner.
If you have managed your own marketing to this point, ask yourself whether this has enabled your business to grow at your desired pace. Have you grown your client base efficiently? Has time and marketing budget been wasted due to lack of time?
Whilst an internal hire or external agency does represent another business cost, in many cases it can be a great investment to help take pressure away from your own should and give your marketing strategy the attention it needs.