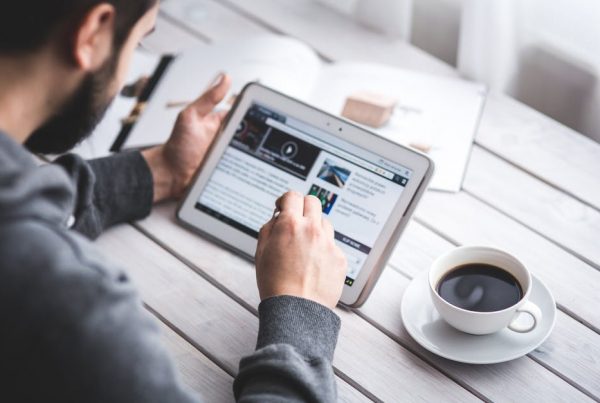 Conversion rate optimisation (CRO) is hugely important when it comes to generating more leads from your financial services website.
Essentially, CRO looks to improve a financial adviser's results when acquiring, converting and retaining new clients.
To get started with CRO, two key components are needed in your financial marketing. First, you need a strong set of digital objectives. Second, you need a solid strategy in place to move towards them.
In this article, our financial marketers will, therefore, share some tips about how financial advisers can identify some appropriate goals for their marketing.
In addition, we will then offer some frameworks you can use to start putting your own digital strategy together. If you have any questions about any of the below, please do not hesitate to get in touch.
Types of Digital Objectives for CRO
Objectives simply refer to where you want your business to be.
Your objectives might fall under a range of different categories depending on the theoretical framework you are using. For instance, you might use the "5's Framework" to set objectives such as:
Selling – targets concerning client acquisition and retention.
Serving – targets concerning client satisfaction.
Sizzling – targets concerning adding value / the "wow factor" to the client experience.
Speaking – targets relating to client engagement.
Saving – targets concerning improved cost efficiency.
Your objectives can also be categorised according to hierarchy. For instance:
Corporate objectives are usually set at the high level of business. This might include targets such as sales revenue, profit, return on investment (ROI), growth, market share and cash flow.
Digital objectives are usually set a bit lower down the hierarchy and flow from the corporate objectives. For instance, these might include conversion objectives (e.g. increase the number of website contact form submissions to 30 by the end of Q1) or acquisition objectives (e.g. increase the number of website visitors to 1,000 pcm by the end of Q1).
Another way financial advisers can organise their objectives is through primary/main objectives, which then set the agenda for secondary objectives:
Primary objectives usually include corporate objectives (e.g. profit growth) which look at the long-term goals of the business (e.g. 3-10 years). The objectives are usually set by the board and are typically quite challenging/stretching. They are often hard to change in the short-term and involve more investment/business resources. Moreover, they tend to involve more uncertainty and risk. Another name for primary objectives is strategic objectives.
Secondary objectives are mostly concerned with contributing to the business's primary objectives. For instance, better cost-efficiency and higher client retention (secondary) should help the business achieve its profit targets. These objectives usually focus on the shorter term (e.g. 1-3 years) and are set by line managers. They are lower in risk, involve fewer investable resources and are easier to change at shorter notice. Another name for secondary objectives is tactical objectives.
How do I choose my objectives?
There is no straightforward answer to this question. As a general guide, however, here are some factors that financial advisers can consider when deciding on their corporate objectives:
How many years you have been in business.
How large your business is and its legal status.
The type of business it is (e.g. privately owned).
Market conditions.
Legislation – current and upcoming.
The opinions/views of directors, managers and other key stakeholders.
The condition of the wider economy.
The nature of your competition.
The nature of your corporate culture.
Your business's attitude to risk.
Wider cultural, social, environmental and political factors.
Models to use for Digital Marketing Planning
At this point, hopefully, some ideas for objectives should be starting to come together in your head.
However, once you have an inkling of what your objectives should be for your financial planning business, how are you going to achieve them? In other words, which strategy would be appropriate?
There are many strategic frameworks you can use. Here, we're going to suggest two you could use:
SOSTAC®
Devised by PR Smith, SOSTAC® is a very useful tool for putting together a digital marketing strategy:
Situation analysis: This looks at where your business presently is (e.g. SWOT & PESTER).
Objectives: This looks at where your business wants to be (e.g. business & marketing goals).
Strategy: How your business is going to get to where it wants to be (e.g. resource plan).
Tactics: This details the specific aspects of your strategy (e.g. digital tools you will use).
Action: Here, this is where you put your plan into practice (e.g. content calendar).
Control: This is where you review, measure and update your plan (e.g. reports & optimisation).
RACE
Credit here to Chaffey D and Ellis-Chadwick F. This framework is useful for financial advisers who are looking to review and prioritse their overall plan (i.e. the "C" in the SOSTAC® model above):
Reach: This is where you work to increase awareness of your brand and services (e.g. across the internet or offline publications). KPIs you might use here (key performance indicators) include audience share or unique website visitors.
Act: This concerns the next logical step from awareness, which is interaction. In other words, here you are looking at how to increase brand engagement. KPIs include website bounce rate, newsletter sign ups, or pages per visit on your financial website.
Convert: Here you are working to increase your conversion actions. For instance, KPIs include marketing goals such as leads, fans or sales.
Engage: In this area, you are looking more at repeat sales and long-lasting customer relationships.