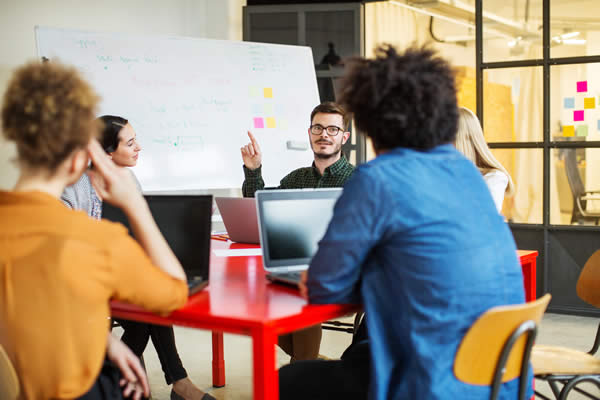 Marketing is a valuable aspect of a financial services business. It helps you retain current clients, identify new ones and helps draw them into your fold. It is, therefore, critical to get the right person (or people) running the helm.
In this post, our team at CreativeAdviser shares some of the top skills a financial firm should look for a in a marketer. This is based largely on our own experience providing marketing solutions to financial planners, wealth managers and investment firms over the last 8 years.
We hope you find this content useful. Please get in touch if you'd like to discuss your own marketing project with us.
Industry knowledge
One of the biggest challenges financial firms face when finding a marketing partner (or hire) is the learning curve that needs to be surmounted. Many marketers will have considerable experience in marketing – but most will lack an understanding of financial services.
Of course, if you are looking to fill a junior position and are happy to invest in a marketer by training them up, this is less of an issue. Yet for many financial firms, their marketing problems are pressing and require expert insight. There isn't time to teach someone the ropes. You need someone to seize them confidently and steer things back in the right direction.
This is where past work experience is crucial. Has this person worked in your sector before? If you are a financial planner, for instance, then there may be some benefit in hiring someone with 10+ years' experience in banking. However, ideally you want someone who has worked either as a marketing professional employed by past financial planners, or someone who has served this sector (e.g. as a consultant). This shows that they will understand most of the jargon in your field and can apply their marketing expertise to it.
Marketing knowledge
How much does your financial marketer know about marketing?
Do they have a degree or other qualifications showing that they understand the theory and principles underlying effective marketing? Good grades in these areas is a positive sign. It shows they're interested in marketing and are a conscientious person.
A willingness to learn is also a key attribute to a successful marketer, since marketing never stands still. In today's digital world, marketing is constantly changing with new technologies and consumer behaviour. Your candidate need to appreciate this and be adaptable.
Having said all of this, a good student of marketing may produce a good academic – but it does not necessarily produce a good marketer. That's why you need to also consider other aspects to the person.
Empathy
One of the best attributes to look for in a financial marketer is their ability to put themselves in the customer's shoes. Seeing things from your prospects' and clients' perspectives is key to understanding and connecting with them.
A good marketer always asks: "How will this be received by my target audience?" A blog, video or press release might appear wonderful to a senior manager who wants to push it out. However, a financial marketer needs the bravery to be able to challenge this if he/she deems it will "fall flat" on the audience.
Your marketing candidate will show promise if they take time to craft relevant, clear "buyer personas" (descriptions of your ideal client) and embed these into both the overall marketing strategy and tactical-level marketing activities.
Critical thinking
Lots of assumptions prevail within any financial firm about "how marketing should be done". A good financial marketer will not disrupt this for the sake of it, but he/she should be willing to test assumptions to make sure they stand on solid ground.
For instance, senior managers might assume that clients prefer to hear from the business "in print" – e.g. via brochures, leaflets and direct mail campaigns. However, this may not be true.
By engaging in research and asking the right questions, a financial marketer may discover that clients would enjoy receiving digitally-based communications (e.g. an email newsletter).
This could present opportunities to make marketing more measurable, targeted and cost-effective.
Analytical prowess
Part of a financial marketer's ability to critically-assess assumptions lies in their aptitude for data analysis. Are they able to look at months of performance concerning SEO, website traffic and other key marketing metrics and draw effective conclusions?
This skill is very valuable and requires coming up with different possible explanations for why consumers and clients are behaving the way they are. For instance, suppose your email newsletter has a high bounce rate. The data may show this clearly, but why is it happening?
One explanation might be that the subject lines are not very good. Another possible reason may lie in past campaign behaviour. In particular, if you have purchased email lists in the past and sent out thousands of emails to people who do not know your business, then this may have detracted from your domain authority and led to delivery problems now.
Strategic planning
The ability to use Facebook Ads, email newsletter software and other digitally-based marketing platforms is important. However, a financial marketer should not just know how to use the weapons of marketing. They should know how they fit into a wider battle plan.
This is where marketing strategy becomes important. Does your marketer show the ability to understand trends and exploit them? Does he/she have a clear set of marketing (SMART) goals and a proposed "road map" to move the business towards them?
Crafting an effective strategy is difficult. Just as it is with a military strategy, there is no guarantee that a marketing strategy should work. However, the hallmarks of a good strategy are the same:
Resting on good information.
Assumptions have been rigorously tested and stand up to criticism.
Tests and measurements can be applied on the way to see what is working.
Flexibility is built into the plan to allow for pivots, if necessary.