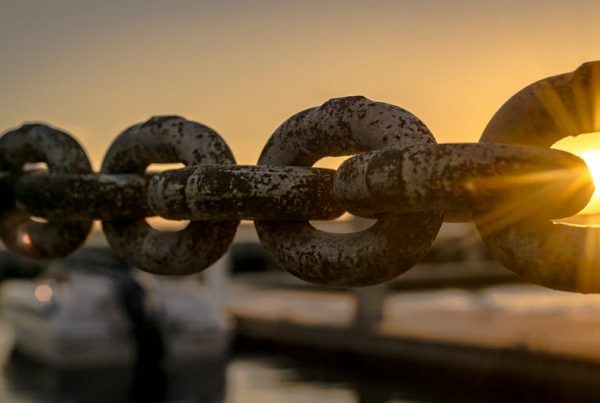 How does Google decide where to rank a financial website in its search engine?
There are over 200 ranking "signals" or "factors" they consider, but if we had to choose two of the most important ones at present, they would probably include:
#1 Great content – fresh, original, relevant and high-quality.
#2 Strong backlinks to your website from relevant 
We've covered the importance of compelling content for an IFA's financial website in other posts. So here we're going to focus on how to build strong backlinks to your website, which will help elevate your brand in your potential clients' search results.
Without a strong foundation of backlinks, your financial website just will not do very well in Google search. Even if you blog all day, every day.
However, most IFAs don't know where to start when it comes to building backlinks. They might ask a friend or colleague to provide a link to their business website in a social media post, but that's about it.
You really need to go beyond that if your financial website is going to meaningfully compete in the search engines. In this article, we're going to share three tactics to get you started – and which effectively add up to about half a day's work.
#1 Brand Name, Financial Website Domain Name, Founder/Exec Names
A great starting point is to look for links that emanate from your own name, brand name, domain name and any co-founder names.
So for step one, go to Google search and type in your company name. Or your founder's name, or the name of a key member of staff (e.g. a director or financial adviser).
For step two, check the search results. If they are pointing to the wrong place, then you need to contact the website in question to fix it.
Sometimes, you can control what the anchor text is, and where it is pointing. For example, let's say your LinkedIn profile comes up in the search results for your name. If your profile is listing the wrong links, then you could log into your profile and change it so your profile is linking to your financial website.
If you find a website that's missing your website URL – such as a Thomson listing – then reach out and ask them to update the listing.
#2 Competitor Lists
There are a few steps you'll want to follow here. First, as an IFA you need to find out who your top 10, most visible competitors are in local search.
This isn't as hard as it might sound. Make a list of search terms that your target market are using to look for your services, and note the other IFAs who come up. Next, look in the media. Are they mentioned in the press a lot? If so, jot that down.
Second, make a search in Google not for just one of these competitors, but two or three of these financial websites at a time.
For instance, say four of my competitors are "Green IFA", "Blue IFA, "Red IFA" and "Yellow IFA". In my first search, I might search for Green IFA and Blue IFA. Then I might run another search for Red IFA and Yellow IFA.
Then, in each of these instances, look out for any sites in the search results that list your competitors in any kind of format. For example, directories, comparison sites, review sites and so on.
From here, you'd want to reach out to whoever runs that website or list, asking them if your website can be listed alongside these other financial websites – complete with a link back to your website.
This approach is a bit gruelling, and you won't see as much success as you will for tactic #1 outlined above. However, it's a great way to expand your portfolio of backlinks.
#3 Websites Listing People In Your Area, Field Or Who Share Your Attributes
These kinds of websites list individuals, or companies, which share a particular region, specialisation, set of attribtutes, or some combination of the three.
So, let's say you find a website dedicated to the following attributes: London-based financial companies founded by women. You might be able to say:
"Aha! Our company is based in London, and our founder is a woman. We also provide finance to SMEs and startups, so we fall into their industry category. We meet three out of their three attributes. We should be on that list!"
You need to look for these sorts of lists containing financial websites, especially those which may have been missed by your competitors. They're a great opportunities to build links to your website.
So, how do you identify websites like these? First, identify your unique attributes as a company:
#1 List the geography of your financial firm. From mico to macro. Go from neighbourhood to city, county, region, even to country. All of these are important identifiers of your financial firm.
#2 List your operation areas. In financial services, many companies offer a broad range of solutions including pension advice, investment advice, discretionary financial planning, and more. This means you can identify yourself as a "pension adviser", an "investment adviser", a "portfolio manager" and so on.
#3 List your attributes. Are your founders different from the norm in financial services? Are your services distinct in any way (e.g. do you focus mainly on ethical/environmental investments)? Does your company serve a particular community or demographic – e.g. financial advice for LGBT? Whatever your attributes might be, list them and combine them.
Second, search Google for businesses that have some of the attributes you've identified. For example, London-based LGBT-friendly financial firms. If anything comes up which lists financial websites fitting these criteria, you could try and get on the list too.
Do you see what's so amazing about this approach to building backlinks for a financial website? It requires no specialist tools, and you don't need to worry about domain authority.
However, this will only get you started. To really build an SEO strategy that stands head and shoulders above the competition, you will need SEO experience, access to paid tools, and knowledge of the opportunities, threats and developments in the SEO landscape.
At CreativeAdviser, our team not only specialise in financial website design and branding for IFAs. Our team also has over 12 years' experience providing SEO and digital marketing solutions to financial firms. Get in touch to book a free, no-commitment marketing consultation with one of our advisers today.