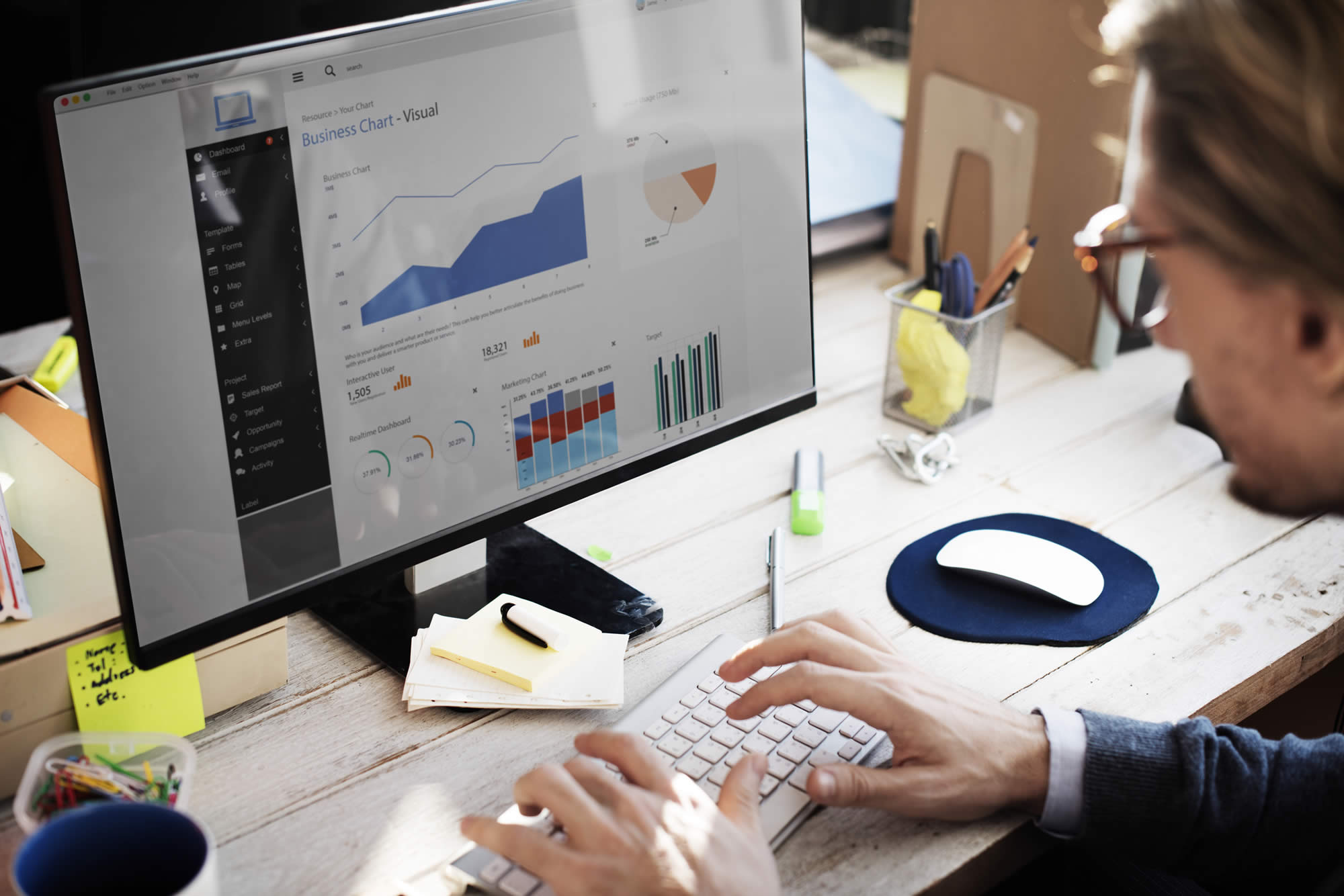 Here at CreativeAdviser, we use a great piece of software called Klipfolio to manage our dashboards and metrics. It's also a great way to measure website performance for financial advisers.
IFAs generally love tracking software for their clients, offered by the likes of Vanguard. So it came as no surprise when we started getting asked about how financial advisers can monitor website metrics.
For instance, who is visiting your website? Where do they came from and what behaviour they are exhibiting? Which pages are most popular, and how long are they spending on there?
Fortunately, there's a great way to gain quick, easy access to this kind of information quickly for financial adviser websites. Here, we're going to show you how to do that through a powerful website dashboard.
Setting up your dashboard
To get your website dashboard up and running, you are first going to need a decent bit of software to display and update the information you need.
Take whole idea is taken from a car dashboard, where various dials and metrics display crucial information to the driver such as speed, RPM and engine temperature. For financial adviser websites, your metrics for visitor behaviour and so forth might be displayed as graphs, pie charts and tables.
There are lots of different dashboards out there, and it is beyond the scope of this article to discuss them all. Rather, here we'll be focusing on how to set up a website dashboard with Klipfolio.
The crucial initial step is to make sure you have a Google Analytics account, and that your tracking code is implemented and working on your financial website.
Assuming this is all up and running, when you finish reading this article check out Klipfolio's tutorial about how to link up Google Analytics with your dashboard. That will take you through the finer details concerning integrating the two bits of software.
Which "dials" you'll need
The nice thing about having a website metrics dashboard on Klipfolio is that it can sit alongside all of your other dashboards. This gives you a great overview of your business, allowing you to switch between metrics pertaining to finance, HR, sales, marketing, client satisfaction and website metrics.
For financial adviser websites, there are some important metrics you'll want to include on your dashboard. Here they are, in no particular order:
#1 Traffic numbers
This specific metric could be represented as line graph, and titled "How many people visited our site." Ideally, you'll want your graph to span over the last 30 days or so, to show the varying levels of traffic over time. A very useful metric to find out, for instance, which days of the week your financial website is most popular with your audience.
#2 Traffic source
Your website visitors will likely arrive at your content from a variety of channels. With a metric titled, for instance, "Where our traffic has come from", you could use a table to demonstrate your data. Here, the columns might include information such as "No. of visits" and "conversions", and the rows could represent your different channels, such as "Organic", "Email" or "Social".
#3 Referral Traffic
This metric builds on the one above, but drills down a bit further. Whilst the former takes a higher level view for financial adviser websites, this one specifically looks at "Which websites sent us traffic".
Here, once again you could use a simple table. The rows could show the most popular websites which referred traffic to you (e.g. Facebook, LinkedIn), whilst the columns could show the bounce rate, number of sessions and conversion rates for these various referral sources.
**Quick tip: "Bounce rate" refers to the percentage of visitors who arrived at your website, who simply left without taking any further action (e.g. visiting another page). "Conversions" refers to people who took a meaningful action, such as booking a consultation or subscribing to your newsletter.
#4 Top pages
Do you know which pages on your financial website are most popular. Of course your homepage is likely to take one of the top spots, but perhaps your IHT service page or business protection page is especially popular. Unless you monitor the behaviour on your website, you won't know!
Again, a table could show your list of URLs according to number of pageviews. You could also display important information such as the average time people spend on these pages, and the exit rate (i.e. how many people leave your website after viewing a particular page).
#5 Location
Most financial advisers are small businesses, comprising under 10 staff. Most are therefore not looking for massive national coverage online, but rather exposure to HNIs in their region or local area. It can therefore be very helpful to have a metric showing the location of visitors to financial adviser websites.
Google Analytics has a nice map of the UK that you can import into your dashboard. Here, you can display the top cities where your website visitors are coming from.
#6 Device
Another important aspect of website traffic to analyse which devices your website visitors are using to access your content. It might be, for instance, that desktop is your most popular device. If so, you could then analyse why that might be.
Is it because your target market is older and prefers to use more traditional computing devices? Or, perhaps it's actually because your website is not optimised for tablets and smartphones, so you are failing to attract and retain any of these visitors!
Summary
Ideally, every financial adviser business should have a defined set of dashboards to monitor the health of their business. An HR dashboard could monitor staff absences and holidays, for instance. Switching from this dashboard quickly to your finance dashboard, you can then quickly see how much revenue you have brought in that month, which of your clients have contributed the most, and whether your income is exceeding your expenses.
A dashboard for your financial adviser website is another crucial piece of this architecture. Here at CreativeAdviser, we not only build bespoke financial websites but can advise on this aspect of your project once the former is officially launched. For more information, please get in touch for a friendly chat with one of our team.