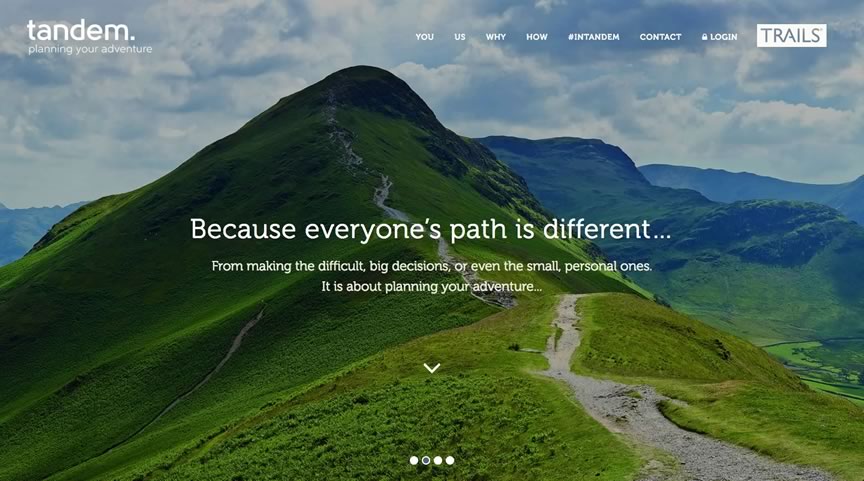 Judging the best IFA websites on the internet is always going to be rather subjective. Impressive new websites are also springing up all of the time, so it's hard to come up with a definitive list which will always remain valid. So, we thought it would be better to present our favourite IFA websites from our portfolio. Enjoy!
Paradigm Norton
http://www.paradigmnorton.co.uk/
Although this is now one of the older websites we designed, it still makes it into our top list of best IFA websites. The imagery remains striking and high-impact, conveying a really personal, approachable feel to the brand.
Paradigm Norton are a well-established IFA based in Bristol, and their website is still commented upon by their contacts and clients. We've even been told that they've been awarded a "Best IFA Website" Award, which makes us immensely proud!
Paradigm Norton significantly "future-proofed" their website through the use of video throughout their content. From introductory videos outlining the company and its services, to video case studies of clients, motion picture is one of the central planks of the user experience.
LeaseUK
Fair enough, LeaseUK are not an IFA. However, we are still incredibly satisfied with their financial website. It was probably of the trickier websites to design, given the diversity of LeaseUK's target audiences. We therefore had to be quite cunning with the layout and calls-to-action. In the end, however, this challenge is one of the reasons it was such a pleasurable project to work on.
The best IFA websites tend to put their website visitor at the heart of their website, not the wants of the financial adviser or website designer concerned in the project. LeaseUK understood this from the beginning. Their willingness to listen to new ideas allowed us to optimise the user experience and increase website engagement, reducing the bounce rate and encouraging conversions (which means more inbound business leads).
Tandem Financial
http://www.tandemfinancial.co.uk/
Last on our list of favourite / best IFA websites (although certainly not least) is Tandem Financial. What made this project so fun was that it was a completely blank slate. There were no current brand guidelines to adhere to, and Paul (the company director) was open to new ideas. Paul also had an eye for design and branding, and had a good idea of the direction he wanted to go in. This made the perfect creative cocktail for us to not only design the website, but craft an entire brand identity to underpin it.
Similar to Paradigm Norton, the website relies heavily on striking imagery – particularly of the English countryside. The different landscapes depicted throughout the site not only convey a sense of financial adventure and the "great outdoors", but also subtly point to the different investment portfolios offered by Tandem to their clients – delineated by different national parks.
We hope you have enjoyed this first part in our series of "Best IFA Websites."
Follow us on

Twitter

or

LinkedIn

to get a notification on Part 2 of this series!