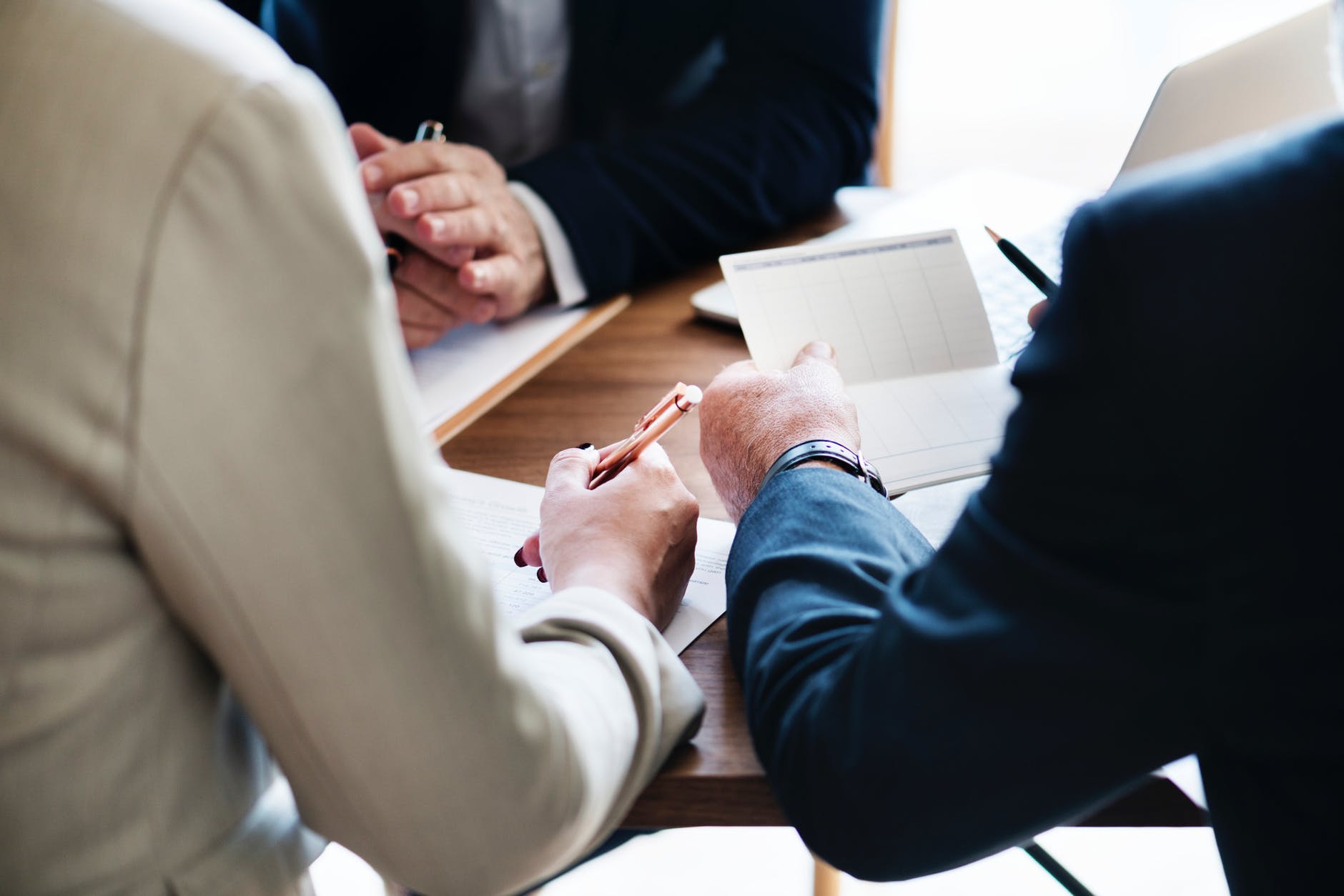 Do you have a Google My Business (GMB) profile for your financial firm? If so, is it working as hard for your marketing as it could?
In 2023, Google My Business is a key ranking factor in search engine optimisation (SEO – particularly for local search. In other words, without a strong GMB profile, it is more difficult to achieve the top positions in your target users' search results.
If you want to be seen more by your audience in Google search – e.g. prospective clients – then it is worth investing in a decent GMB listing. Yet where do you even start? Below, our team explains how a financial firm can create and strengthen their profile in 2023.
We hope this content is useful to you. Please get in touch if you'd like to arrange a free, no-commitment online meeting with a member of our team, to discuss your own financial marketing strategy and goals.
What is Google My Business (GMB)?
Google My Business (GMB) is a free online profile that you create with Google to list your business in its search engine results. It helps to give users a "snapshot" view of your financial firm such as head office location, opening hours and photos of your premises.
GMB is also a key part of Google Maps. If you want local prospects to see your business in these Maps results, then you need to invest in a good GMB profile. Here is an example of what Google's own GMB profile looks like in search results, in 2023: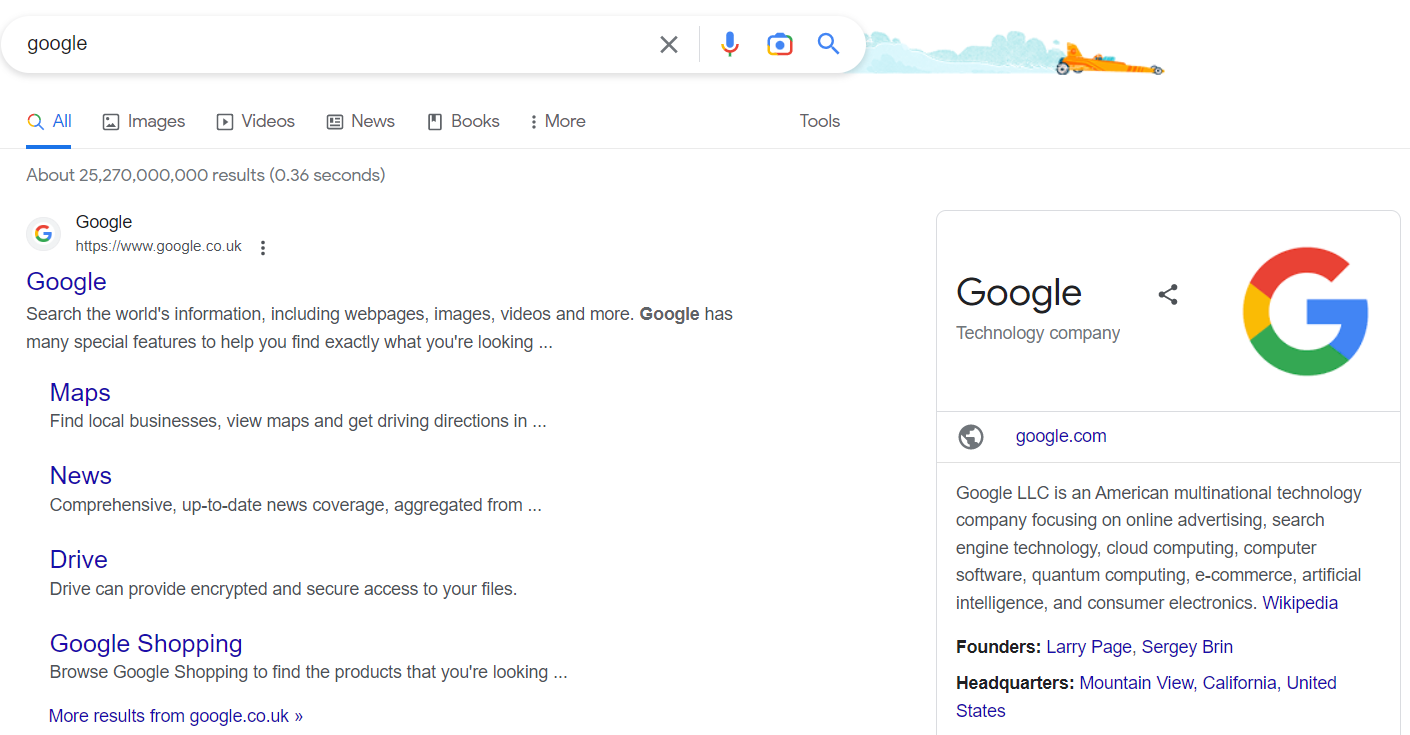 The Google My Business profile is the information contained in the box on the right. As you can see, having a GMB profile helps your brand to take up more search engine "real estate" when people look for your financial firm online. In this case, the entire desktop search results only feature Google's links, branding and company information. Competitors do not even get a look in!
Let's try another example, but this time for financial advisers.
Here is a snapshot of the search results for the keyword: "financial adviser oxford":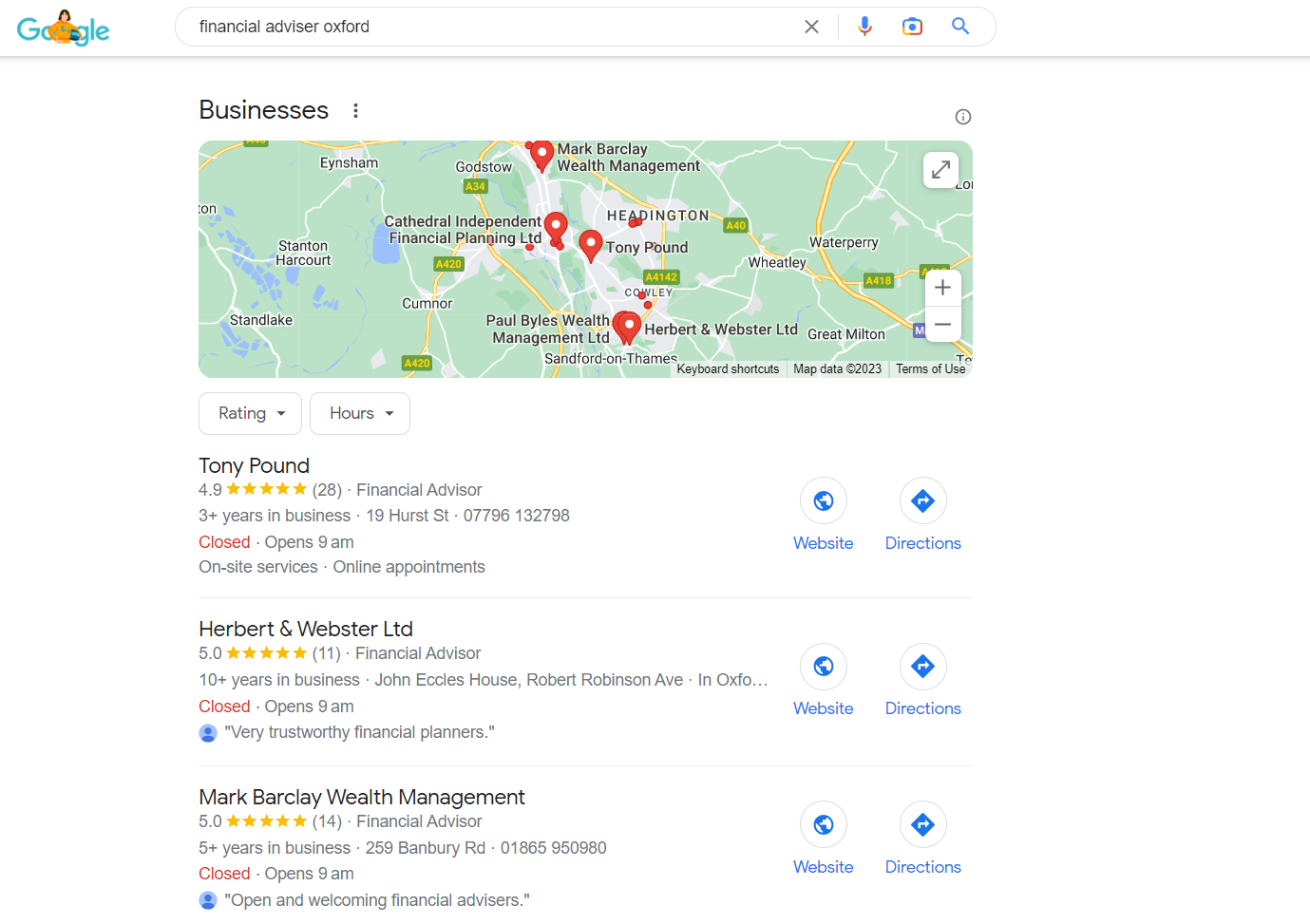 Here, you can see the Google Maps preview and local business listings underneath, together with their Google Reviews. The companies occupying these top three spots have an SEO advantage. Users are far more likely to click through to these companies than click on the "more businesses" option underneath (to expand the list further).
How do I create a strong GMB profile as a financial firm?
You may now be starting to see the marketing potential of having a strong Google My Business profile. Yet how do you create and enhance one for your own business? What can you do to try and push yourself into that "top three spot" under the Google Maps preview?
First of all, you need to create an account (assuming you do not have one). This is completely free and the instructions are fairly straightforward. You will need to list your business name, primary business category (e.g. financial planning) and office address.
It is a good idea to add your phone number, opening hours and website URL as well. Consider including your "service areas", too – i.e. the specific locations where you meet and serve clients. If your office is based in Oxford, for instance, which specific towns, villages and regions do your business activities extend to?
Try to be specific when listing your services. As a financial planner, for example, which areas of financial planning do you help with? These might include pension advice, investment planning, tax planning, estate planning and more. Are there any niche, specialist services that you offer which may set you apart from other firms like yours in the area?
Consider enabling messaging to allow prospective clients the opportunity to talk with your business directly, online. Here, you will need to assign someone to monitor and manage the inbox within your GMB profile to ensure that messages are picked up and responded to.
Getting your business description right is also very important. Using too much jargon is likely to put people off. Also, a description that is too long, too short or poorly-structured (e.g. large paragraphs and long sentences) will also suffer. Try to add context to what makes your financial firm unique and how you can help address the needs and pain points of your target client.
Try to use language which focuses on "you" (the reader, or potential client) rather than "us" (what the financial planner does and what makes the business so great). Try to mention expertise, experience, qualifications and competencies within this framework.
Take time to invest in your GMB imagery. A high-resolution logo is a must. Yet also consider including high-quality photography of your staff, office premises and brand imagery.
The final step is to verify your business. In 2023, this is the most fiddly part of the process and may involve recording a short video to submit to Google. This helps to confirm that you own the business and prevent identity fraud.
What's next?
With your GMB listing now complete, what do you do now?
A good next step is to gather a strong set of positive client stories, testimonials or case studies for your Google Reviews.
If you can get, say, five or ten reviews which give you 4 or 5 stars, for instance, then this will help your business to stand out from other financial firms which are competing for the same search engine real estate as you.
Try not to be afraid of negative reviews. They may happen, but the important thing is to not ignore them or try to remove them (this is very difficult). Instead, make sure you monitor your GMB profile and respond to any negative reviews politely, professionally and accurately.
It may surprise you, but this can actually strengthen the authority of your brand – not weaken it. Most people intuitively accept that even the best businesses sometimes get negative reviews (those without any may even be suspect!). What matters is how – and when – you respond to them.