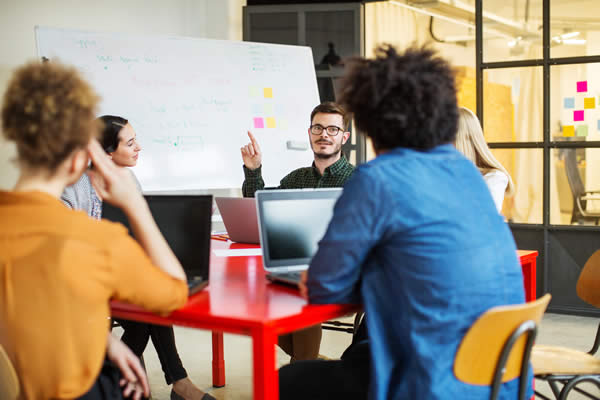 Getting marketing right is hard for financial firms. There are many moving parts to get right.
A lot can go right with the right marketing strategy – delivering higher levels of brand exposure and leads. However, it is also easy to fall into common "marketing traps" which can undermine your efforts.
Here at CreativeAdviser, we have identified five common marketing mistakes that we've witnessed in 2022. Our aim is to help you spot and avoid these in your own strategy. We hope this content is useful to you.
If you'd like to discuss your own marketing strategy with us, get in touch to arrange a free, no-commitment consultation with our team.
#1 Low-quality images
We cannot stress enough the importance of using sharp, high-resolution imagery in your financial marketing.
Blurry, unclear images are a sure way to make a bad impression. Whether you are dealing with a social media infographic or a featured image for your latest blog post, make sure you invest in good quality images to support your content.
Also, take care to select images that are consistent with your brand and convey the right message.
Many financial planners are lazy with their image selection, which creates a poor impression and does not make their content particularly memorable or engaging.
Be careful, therefore, to avoid common clichés which are likely to cause more harm than good (e.g. a picture of a man in a wheat field, with his arms stretched out towards the sun!). Also, consider investing in great team imagery to include on your digital channels.
#2 Infrequent, low-quality content
What is the state of the blog on your financial website?
Many financial planners either do not offer any written thought leadership at all, or is it very inconsistent – publishing irregularly, perhaps, or varying the word count dramatically each time they do post.
Take time to honestly ask yourself what kind of content strategy you can commit to. It is better to post 400 words once per week than it is to post 1,000 words every other month, for instance.
Quantity also needs to be balanced with consistency, however. To have a good chance of your content helping with your SEO, in particular, you need to be publishing articles at least 1,000-2,000 words in length.
We understand that it takes time to come up with topics for your blog and to actually write the content. It is worth it, though.
Take care to also be consistent with the content types you push out. For instance, can you commit to a regular video or client newsletter? What about a podcast or downloadable PDF guides? Make sure your audience knows what to expect, and that you deliver.
#3 Poor website responsiveness & speed
How fast is your financial website? Does it re-shape appropriately if people view it on a mobile or tablet device?
A slow website is one of the best ways to ensure a poor user experience, leading to people quickly leaving your website and search engines pushing your content further down their listings.
You can take a look at your website speed, now, using the free Google PageSpeed Insights tool. This will give you a summary of your website speed on different devices, also listing some of the issues that can be fixed to make it run faster.
However, in some cases the issues may run too deep for a "quick fix". In which case, you may need to consider a website re-design.
Your Google Analytics reports can also be useful for identifying "clunky", slow-moving pages that are perhaps weighed-down to much (e.g. by overly-large images).
Be especially careful to ensure that your website performs well on smartphones. Search engines like Google now make this a major factor in how they rank financial websites in their search engine results.
You can use a free tool like Hubspot's Website Grader to find out your score on this front.
#4 Terrible branding
Your financial website can only stand as strong as the branding underpinning it.
Branding includes – but is not limited to – your visual identity. This means your logo, colour scheme, imagery, fonts, styles and iconography. Cutting corners on any of these is bound to be noticed by your audience, leading to a poor impression.
Sure, we understand that in the early days of setting up a financial firm, investing lots of money into a great brand may not be realistic. However, once your business is stabilised and profitable, a poor brand image is going to seriously hold you back.
Consider investing in a strong financial brand if you know that you have not taken it seriously yet.
#5 No sustainable competitive advantage
Any business needs to answer the question: "What makes me different from competitors, and why should my audience care?"
Here, however, a lot of financial planners seem to have not thought too much about their sustainable competitive advantage. Perhaps the quality of their team is apparent to them. However, this does not mean that it is obvious to people who don't know you.
The most basic SCA is cost, of course. If you can offer the same service as competitors, but cheaper, then you are an obvious choice.
However, this advantage is not always sustainable or desirable. A race to the bottom is a quick lose-lose for everyone.
Other ideas you can consider, then, include "specialisation". For instance, perhaps you can offer a special service for expats, or to people who have recently immigrated to the UK from your home country?